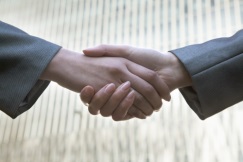 Customer Care Customer satisfaction is essential for our success as an organisation and therefore we have a dedicated manager and team to achieve our goals. All employees undergo customer care training and this gives them the tools to deal with any situation that may arise during their work in a professional manner. Our staff members are encouraged to work with our clients and listen to their feedback to ensure they are satisfied with the work we are providing.
We value our customers' opinions and recognise that these views allow us to improve our performance year on year. We carry out a six monthly survey of all our clients to allow us to understand whether we are achieving our goals and where we can enhance our services.
We appreciate that clients and residents need to know who is servicing their building and so clients are provided with details and photographs of their cleaner, area manager and customer services manager so they are able to make their views known whilst staff are on site.